EOTech 512.XBOW Holographic Weapon Sight for Crossbow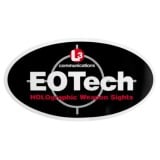 This product is no longer available
EOTech 512.XBOW Sights
Front Window: 1/8" solid glass
Rear Window: 3/16" shatter-resistant laminate
Optical surfaces feature anti-glare lens coatings
Heads-Up Display: eliminates blind spots and constricted vision
Holography technology - instantly visible in any light, parallax free
Even if the window is obstructed or damaged, the HWS remains fully operational, provided a portion remains intact/visible. The entire reticle pattern will be seen on target, with no change in POI/POA.
Magnifier compatible: reticle will not be enlarged by optic's power
EOTech 512.XBOW Function and Power
Powered by 2 AA lithium, alkaline or rechargeable batteries
1000 hr Battery life with alkaline or 600 hrs with lithium batteries
Automatic shut-down: 8 hr, programmable to 4 hr
Battery check indicator: flashing reticle at start-up
Integral mount: compatible with Picatinny/Weaver systems
Precision adjustments: 1/2 MOA clicks, 40 MOA W&E correction
Reticle: crossbow reticle with range estimation & holdover for whitetail.
20 Daylight brightness settings
EOTech 512.XBOW Construction Details
Finish & color: hardcoat anodized, black
Internal optical system is sealed and fully fogproof
Return to Zero: repeatable to 1 MOA after re-mount
Durable housing features a rugged aluminum hood assembly
Function buttons location: positioned on the rear of the sight
Battery compartment is designed to fit/hover over AR type rifles' Delta Rings
Integral Picatinny type mount
EOTech 512.XBOW Holographic Weapon Sight for Crossbow description
From Night Vision Guys about 512.XBOW Holographic Weapon Sight
What makes EOTech 512 so popular? It is certainly the simplicity, reliability and versatility of this sight. Starting with readily available AA batteries and excellent price, this HWS's deliver reliable target acquisition with both eyes open. They perform favorably against standard red dot sights in terms of field of view and do much better when co-sighted with a magnifier. Bottom line is if you need a basic but reliable holographic weapon sight, EOTech 512 is your choice. Several models are available featuring realtree, mossy oak, and black finish as well as a variety of reticle options.
From EOTech about 512.XBOW Holographic Weapon Sight
Model 512 is our most popular holographic weapon sight. It's ideal when you need the best in speed and versatility, without night vision compatibility. Available in Realtree™ APG and Mossy Oak® Obsession camo patterns, as well as black.
From the market about 512.XBOW Holographic Weapon Sight
The 512 XBow Holographic Crossbow Sight from EOTech is an unmagnified aiming device combining rapid, both-eyes-open target acquisition, with a sharp reticle suitable for hunting with crossbows. Designed for fast target acquisition and enhanced situational awareness, the unique holographic reticle concept makes the aiming point visible in any lighting condition and remains centered on the target regardless of the operator's shooting angle. Additionally, this Holographic Weapon Sight (HWS) reduces blind spots and tunnel vision common in tube sights, as well as enabling both-eyes-open shooting. Control buttons are positioned on the back (facing the shooter) of the unit, for ease of operation.
This version of the 512 sports a reticle configured for range estimating and holdover specifically for hunting with crossbows. Two reticles appear in the field-of-view; on the left, a range-estimating diagram with a base and stadia lines, and on the right crosshairs with four holdover dots. First, estimate the range to the target. The distance between the base and the stadia lines correspond to an average whitetail's size (18", brisket to shoulder). Placing the base of the scale on the brisket, read the yardage on the line crossing the shoulder; this is your estimated distance to target. To use your holdover dots, the provided Ballistic Wheel will determine the range of each dot based on your arrows' speed.
The Holographic Reflex Sight is submersible to a depth of 33', and is repeatable to 1 MOA after remounting. The rear window is a 3/16" thick shatterproof laminate with anti-glare and scratch resistant coatings, and the front lens is 1/8" solid glass. The sight is virtually parallax free at all distances, a mission-critical feature.
More from the market about 512.XBOW Holographic Weapon Sight
The EOTech 512.XBOW is EOTech's most popular HWS for crossbows. Featuring the XBOW reticle, rugged construction, unlimited eye relief, and utilizing parallax free transmission holography, this sight is perfect for shooters wanting CQB speed and versatility, without the need for rarely used night vision compatibility.
Technical Specifications
Length:
5.6 in (143mm)
Width:
2.0 in (51mm)
Height:
2.5 in (64mm)
Weight:
11.1 oz (312g)
Mount:
1" Weaver or Mil-Std 1913 rail
Power Source:
AA (Alkaline or Lithium)
Brightness:
20 settings
Water Resistance:
10 ft (3m)
Battery life:
Approx 1,000 continous hours (Lithium) or 600 hours (Alkaline) at nominal setting 12 at room temperature
Color/Finish:
Black
Night vision compatible:
No
Reticle option(s):
• -0: 68 MOA ring with 1 MOA dot (512.A65)
• Xbow with range assist (512.XBOW)
Questions on EOTech 512.XBOW Holographic Weapon Sight for Crossbow
No questions asked yet
Ask Your Own Question