Newcon Optik LRM 1500M Laser Rangefinder Monocular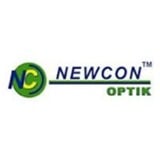 A 7x25 8° monocular perfect for golfers and most hunting applications
Gives accurate information and outstanding optical sharpness at an attractive price
Often acquires target distance even through glass
"Last Target" measurement & last 10 readings recall
English & metric readings
Selectable reticle shape
Newcon Optik LRM 1500M Laser Rangefinder Monocular description
From Newcon Optik about LRM 1500M Monocular Laser Rangefinder:
LRM 1500M combines excellent optics with the latest advanced technology. Revised approaches in optical and electronic engineering that incorporate many years in development of laser range finding technology allow target acquisition at longer distances with better reliability
under wider ranges of weather conditions. 

This model allows you to observe distant objects with great image quality plus it measures distance to the object (up to 1.5 kilometers). Aim and click - and you know all what you want about your target. 
Newcon Optik LRM 1500M Laser Rangefinder Included Accessories:
Case
Strap
Instruction Manual
1-Year Limited Warrant
From Night Vision Guys about Newcon Optik LRM 1500M Laser Rangefinder:

Newcon Optik line of laser rangefinders features several models with a variety of maximum ranges and features.   higher end models in the line also feature speed detection capability.  LRM 1500M is the entry level unit with maximum range of 1500 meters.
Newcon Optik products are known for their reliability and quality.  LRM line of laser range finders is no exception.  These units are reliable and rugged.
Technical Specifications
| | |
| --- | --- |
| Prism Type | Roof |
| Magnification | 7.0x |
| Objective Lens Diameter | 25 mm |
| Angle of View | 8° |
| Laser Type | Class 1, 905nm |
| Beam Divergence | 2.0 mrad |
| Resolution | 3.3 ft (1 m) |
| Metering Range/Accuracy | 11 - 1640 yd (10 - 1500 m) / ±3.3 ft (1 m) |
| Exit Pupil Diameter | 3.6 mm |
| Eye Relief | Not specified by mfr |
| Weatherproofing | Water-resistant |
| Tripod Socket | Yes, 1/4" |
| Power Source | (1) 9V battery |
| Dimensions | 5 x 5 x 2.4" (13 x 12.5 x 6 cm) |
| Weight | 15.7 oz (445 g) |
Questions on Newcon Optik LRM 1500M Laser Rangefinder Monocular
---
Ask Your Own Question