EOTech XPS2-300 BDC Holographic Weapon Sight no Night Vision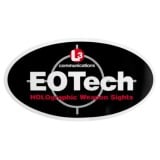 EOTech XPS2-300 Optical Performance
Front Window: 1/8" solid glass
Rear Window: 3/16" shatter-resistant laminate
Optical surfaces feature anti-glare lens coatings
Heads-Up Display: eliminates blind spots and constricted vision
Transmission holography - instantly visible in any light, parallax free
Even if the laminated window is obstructed or damaged, the HWS remains fully operational. Provided a portion of the window is intact/visible, the entire reticle pattern will be seen on target, and the POI/POA will be maintained.
EOTech XPS2-300 Use and Handling
1/2" adjustment clicks, 40 MOA W/E range
Battery check indicator flashes reticle at start-up
Automatic shut-down at 8 hr, programmable to 4 hr
Integrated quick-release throw lever mount compatible with Picatinny-Type rails
EOTech XPS2-300 BDC Construction Details
Color/finish: non-reflective black hard-coat
Short-base form-factor requires 2.75" of rail space
Internal optical system is sealed and fully fogproof
Return to Zero: repeatable to 2 MOA after re-mount
Submersible to 10.0'/3.1 m, fogproof internal optics
Durable housing features a rugged aluminum hood assembly
Function buttons location: positioned on the rear of the sight
Battery compartment designed to fit/hover over the rifle's Delta Ring
Integral mount is compatible with Mil-Std 1913 Picatinny systems, and it has a knobbed, tool-less mounting bolt
EOTech XPS2-300 BDC Holographic Weapon Sight no Night Vision description
From EOTech about XPS2-300 Compact Holographic Weapon Sight
The XPS2 is the shortest, smallest and lightest EOTech model holographic weapon sight available without night vision. Its size and weight make it convenient for hunters and law enforcement officers to carry.
It is also fast and runs on a single 123 battery. The compact, single-lithium-battery configuration leaves more rail space than ever for rear iron sights or magnifiers.
From the market about XPS2-FN Compact Holographic Weapon Sight
The XPS2-300 HWS Holographic Weapon Sight from EOTech is an unmagnified aiming device with a reticle designed specifically for the 300 Blackout. The sight is designed for fast target acquisition and enhanced situational awareness. EOTech's unique holographic reticle concept makes the aiming point visible in any lighting condition and remains centered on the target regardless of the operator's shooting angle. Additionally, this Holographic Weapon Sight (HWS) reduces blind spots and tunnel vision common in tube sights, as well as enabling both-eyes-open shooting.
The XPS series is the shortest and lightest HWS produced by EOTech. Running on a single CR123 battery mounted perpendicular to the receiver, it leaves more rail space than previous models for iron sights or magnifiers. Control buttons on this model are mounted on the sight's back (facing the shooter), for fast activation. Both the rear and front windows are shatter resistant; even if broken by extreme shock, such as a direct hit or vehicle crash, glass won't shatter, and all remaining glass surfaces will permit the sight to function properly.
This XPS2 is specifically configured for the 300 Blackout (or 300 Whisper) cartridge. It features two bullet drop compensation subtention dots in a 65 MOA circle. The reticle can be used either with subsonic or supersonic loads; if shooting the quiet version, use the top dot as 50 yards zero, and the lower dot will be dead-on at 150 yards. If using supersonic rounds, zero the top dot at 100 yards and the bottom dot will be on target at 300.
EOTech XPS2-300 (Matte Black) BDC Ships with:
Limited 2 Year Warranty
island keys
storage case
Technical Specifications
Length:
3.8 in (97mm)
Width:
2.1 in (54mm)
Height:
2.5 in (64mm)
Weight:
9.0 oz (255g)
Mount:
1" Weaver or Mil-Std 1913 rail
Power Source:
3 volts, (1) 123 Lithium battery
Brightness:
20 settings
Water Resistance:
10 ft (3m)
Battery life:
Approx 600 hours at nominal setting 12 at room temperature
Color/Finish:
Black
Night vision compatible:
No
Reticle option(s):
• -0: 68 MOA ring with 1 MOA dot (XPS2-0)
• -1: 1 MOA dot (No ring) (XPS2-1)
• -2: 68 MOA ring with (2) 1 MOA dots (XPS2-2)
• FN303 Less Lethal reticle (XPS2-FN)
• SAGE Less Lethal reticle (XPS2-SAGE)
Questions on EOTech XPS2-300 BDC Holographic Weapon Sight no Night Vision
No questions asked yet
Ask Your Own Question