EOTech Holographic Hybrid Sight HHS I EXPS3-4 with G33.STS Magnifier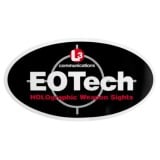 0% APR for 3 or 12 months or interest bearing for 18 months*
EOTech HHS I Holographic Sight with 3x Magnifier
65 MOA Circle / 1 MOA Aiming Points
(4) .223-Calibrated BDC Aiming Points
EXPS3-4 Holographic Red Dot Sight
Night Vision Compatible
G33.STS 3x Magnifier with STS Mount
Quick-Release Picatinny / Weaver Mount
Unlimited Eye Relief; Parallax-Free
0.5 MOA Windage / Elevation Adjustments
Fogproof/Waterproof; Submersible to 33ft
Made in USA
EOTech EXPS3-4 Red Dot Sight
1x magnification, 1.2 x 0.85" display window
Unlimited eye relief
Parallax free illuminated reticle, NVD compatible
Transmission holography heads up reticle display
20-level adjustable reticle brightness with scrolling function
Reticle pattern: 65 MOA red circle with four 1 MOA red aiming points
Bullet drop compensated aiming points (up to 600m) for .223 caliber ammo
1/8" solid glass front window, 3/16" shatter-resistant rear window
Anti-glare coated window surfaces
1/2 MOA impact point correction
±40 MOA adjustment range
Return to zero within 2 MOA
Integrated quick-release Picatinny / Weaver mount
EOTech G33.STS Magnifier
3x magnification
2.2" eye relief
7.3° angle of view
Tool free azimuth and elevation adjustments
Included 7mm riser enables cowitnessing with raised iron sights
STS dovetail mount enables quick switching to unmagnified view
HHS I Construction Details
O-ring sealed fogproof housing, submersible to 33 ft
-40 to 160°F operating temperature range
Non-reflective matte black finish
Aluminum hood assembly
23 oz combined weight
EOTech Holographic Hybrid Sight HHS I EXPS3-4 with G33.STS Magnifier description
From EOTech about HHS I EXPS3-4 combo with G33.STS
The Holographic Hybrid Sight I (HHS I) features an EOTech EXPS3-4 with a G33.STS magnifier. The EOTech Holographic Sight has great utility for any shooter, whose target ranges vary from close to far. The EOTech HHS I provides a solution for engaging threats in close-quarter combat situations, then quickly transitions to a 600-meter targeting or surveillance situation. A quick switch-to-side (STS) mount offers simple, fast disengagement of the G33 magnifier.
The durable, night-vision-compatible system offers wide-field optical performance with superior light transmission for visibility in extreme low-light conditions.
From the market about HHS I EXPS3-4 combo with G33.STS
The EOTech HHS I Holographic Sight with 3x Magnifier from L3 is a holographic weapon sight that enables both-eyes-open target acquisition and the added functionality of a 3x magnifier. This configuration of the EOTech HHS I includes an EXPS3-4 holosight and the G33.STS accessory optic, which provides 3x magnification and allows the operator to shift from CQB to mid-range targeting. The compact form factor of the EOTech Holographic Sight saves valuable rail space, making the HHS I capable of fitting atop a wide range of tactical arms.
EOTech's proprietary transmission holography optical system delivers a parallax-free view through the EXPS3 heads up window. This display window is finished on both sides with an anti-reflective lens coating; the 3/16" thick rear window is made of a shatterproof scratch-resistant laminate, and the front window is composed of 1/8" solid glass.
This configuration of the EOTech optics EXPS3 has an illuminated reticle with bullet-drop compensating aim points specially designed for use with .223 caliber ammo. The four red dot aim points are centered within a 65 MOA circle, providing accurate holdover distances for targets at 400, 500, and 600-meter distances. The holosight's reticle illumination system has 20 selectable brightness levels, and it is capable of up to 600 hours (on level 12) of continuous operation on a single CR123 battery. An in-view low-battery indicator and a programmable auto-deactivation function equip the EXPS3 with additional features for preserving battery life.
The G33 magnifier comes with the Switch to Side (STS) quick-release dovetail mount, which allows the shooter to switch to unmagnified viewing simply by pushing the G33 to the side. This magnified optic features an improved 2" eye relief compared to previous EOTech magnifiers, and its tool-less design enables quick azimuth and elevation adjustments by hand. For co-witnessing raised iron sights, the STS mount comes with an optional 7mm riser.
Designed for tactical professionals, the EOTech HHS I features the build quality and reliability needed for tactical operation in a wide range of weather and lighting conditions. The housings of both the holosight and the magnifier are O-ring sealed for fog proof and waterproof performance. Additionally, the holosight's integrated quick-release Picatinny/Weaver mount is capable of 2 MOA return to zero consistency. The combination of parallax-free optics, user-friendly handling, and rugged construction make the EOTech HHS I a full-featured aiming system for close to mid-range engagements.
Technical Specifications
| | |
| --- | --- |
| Length: | 7.7 in (195.6mm) |
| Width: | 2.3 in (59mm) |
| Height: | 3.3 in (83.9mm) |
| Weight: | 22.4 oz (635.1g) |
| Mount: | 1" Weaver or Mil-Std 1913 rail |
| Power Source: | 3 volts, (1) 123 Lithium battery |
| Brightness: | 30 settings (10 for NV) |
| Water Resistance: | 33 ft (10m) |
| Battery life: | Approx 600 hours at nominal setting 12 at room temperature |
| Color/Finish: | Black |
| Night vision compatible: | Gen I-III |
| Reticle option(s): | -4: 60 MOA ring with (4) 1 MOA dots (HHS I) |
| Magnification: | Fixed 3X (with magnifier engaged) |
Questions on EOTech Holographic Hybrid Sight HHS I EXPS3-4 with G33.STS Magnifier
No questions asked yet
Ask Your Own Question