EOTech Military Holographic Weapon Sight Model 552.XR308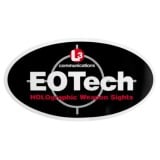 EOTech
L-3 EOTech HWS - 552.XR308
Compatible with Gen I-IV Night Vision Systems (Tandem Operation)
AA Battery model (supports Lithium and Alkaline)
XR308 balistic reticle for .308 caliber
includes rugged aluminum hood assembly and knobbed, tool-less mounting bolt
interfaces to 1" Picatinny (MIL-STD-1913) rail
EOTech Military Holographic Weapon Sight Model 552.XR308 description
From Night Vision Guys about EOTech 552.XR308 Night Vision Compatible Holographic Sight
This particular model of the ever popular EoTech 552 Series holographic sight comes equipped with a balistic XR308 reticle specifically designed for .308 caliber weapon. The EOTech 552 XR308 is super reliable and versatile.  It offers several expendability options such as laser equiped battery cover and several magnifer options.  OVerall 552 is one of the most widely used tactical red dot sights in the world.
From EOTech about 552.XR308 Night Vision Compatible Holographic Sight
The holographic patterns have been designed to be instantly visible in any light, instinctive to center regardless of shooting angle, and to remain in view while sweeping the engagement zone. Reticles are designed as large, see-through patterns to achieve lightning quick reticle to target acquisition without covering or obscuring the point of aim. The HDS employs a true Heads-Up Display that eliminates blind spots, constricted vision, or the tunnel vision associated with tubed sights. All user controls are flush to the HDS's streamline housing with no protruding knobs, battery compartments or mounting rings blocking vision at the target area. True, 2 eyes open shooting is realized. Instant threat identification is achieved by maximizing the operator's peripheral vision and ultimately gaining greater control of the engagement zone. The HDS uses state-of-the-art digital electronics design. Twenty brightness levels ensure proper brightness control in either low light or very bright sunlight. An on-board microprocessor provides automatic battery check indicator, up/down brightness scrolling and programmable auto shutdown features. All electronics are fully encapsulated in shock absorbing resinStandardized by the DEA, ATF, and FBI SWAT, the Model 552 is by far the most popular HWS model. This NV compatible, AA battery model is the sight of choice by military units like Stryker Brigade, 10th Mountain, and 3rd Infantry. It is battle proven to withstand the abuse that any harsh environment, high powered weapon platform, or military mission can dish out. 
Compatible with Gen I-IV Night Vision Systems (Tandem Operation)Operation
Optics: Transmission holography - parallax free
Magnification: 1xEye Relief: Unlimited
Length/Width/Height: 5.4"x1.8"x2.25" (131x49x60 mm)
Weight: 10.9oz (309 grams)
Temperature: -40 to 150 F (using AA lithiums); -20 to 140 F (all other battery choices)
Waterproof: Submersible to 33 ft depth
Sealing: Fogproof internal optics
Color/Finish: Non reflective black with hard coat finish
Adjustment (per click): 0.5 MOA (1/2" at 100 yds)
Adjustment Range: +/- 40 MOA travel
Mount: 1" Picatinny (MIL-STD-1913) or Weaver rail
Return to Zero: Repeatable to 1 MOA after re-mounting 
Heads-Up-Display Window 
Optical Surfaces: Anti-glare coating
Window Dimensions: 1.20" x 0.85" (30 x 23mm)
Front Window Material: 1/8" solid glass
Rear Window Material: Shatter resistant laminate (3/16" thick)
Field of View (100 yds): 30 yds (28m) at a 4" eye relief
Standard Reticle: Ballistic reticle for.308 caliber
Electrical Brightness Adjustment Range: 146,000:1 brightest to lowest
Night Vision Brightness Range: 1280:1 with NV switch engaged
Power Source: 2x 1.5V AA batteries (supports lithium, alkaline, or rechargeable)
Battery Life: 1,000 continuous hours (lithium) at nominal setting 12; 600 continuous with AA alkaline
Brightness Settings: 30 settings with scrolling feature (10 settings for NV use)
Auto Battery Check Indicator: Flashing reticle upon start-up
Auto Shut-down: At 8 hrs- programmable to 4 hrs
Technical Specifications
Length:
5.6 in (143mm)
Width:
2.0 in (51mm)
Height:
2.5 in (64mm)
Weight:
11.1 oz (312g)
Mount:
1" Weaver or Mil-Std 1913 rail
Power Source:
AA (Alkaline or Lithium)
Brightness:
30 settings (10 for NV)
Water Resistance:
33 ft (10m)
Battery life:
Approx 1,000 continous hours (Lithium) or 600 hours (Alkaline) at nominal setting 12 at room temperature
Color/Finish:
Black
Night vision compatible:
Gen I-III
Reticle option(s):
• -0: 68 MOA ring with 1 MOA dot (552.A65)
• XR308 (4 dots for .308/7.62x51) (552.XR308)
Questions on EOTech Military Holographic Weapon Sight Model 552.XR308
No questions asked yet
Ask Your Own Question