EOTech XPS2-SAGE Holographic Weapon Sight no Night Vision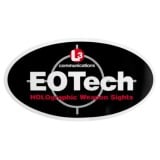 0% APR for 3 months or interest bearing for 6/12 months*
EOTech XPS2-SAGE Optical Performance
Front Window: 1/8" solid glass
Rear Window: 3/16" shatter-resistant laminate
Optical surfaces feature anti-glare lens coatings
Heads-Up Display: eliminates blind spots and constricted vision
Transmission holography - instantly visible in any light, parallax free
Even if the laminated window is obstructed or damaged, the HWS remains fully operational. Provided a portion of the window is intact/visible, the entire reticle pattern will be seen on target, and the POI/POA will be maintained.
EOTech XPS2-SAGE Use and Handling
Powered by 1 CR123A: 600 hr run-time at nominal setting of 12
Automatic shut-down: 8 hr, programmable to 4 hr
Battery check indicator: flashing reticle at start-up
Specific to Sage rifled launchers for less lethal applications
Precision adjustments: 1/2 MOA clicks, 40 MOA W&E correction
Illuminated reticle: Sage less-lethal reticle pattern. 20 Brightness settings with scrolling feature
EOTech XPS2-SAGE Construction Details
Color/finish: non-reflective black hard-coat
Short-base form-factor requires 2.75" of rail space
Internal optical system is sealed and fully fogproof
Return to Zero: repeatable to 2 MOA after re-mount
Submersible to 10.0'/3.1 m, fogproof internal optics
Durable housing features a rugged aluminum hood assembly
Function buttons location: positioned on the rear of the sight
Battery compartment designed to fit/hover over the rifle's Delta Ring
Integral mount is compatible with Mil-Std 1913 Picatinny systems, and it has a knobbed, tool-less mounting bolt
EOTech XPS2-SAGE Holographic Weapon Sight no Night Vision description
From EOTech about XPS2-SAGE Compact Holographic Weapon Sight
The XPS2 is the shortest, smallest and lightest EOTech model holographic weapon sight available without night vision. Its size and weight make it convenient for hunters and law enforcement officers to carry.
It is also fast and runs on a single 123 battery. The compact, single-lithium-battery configuration leaves more rail space than ever for rear iron sights or magnifiers.
This EOTech holographic sight for sale has the same body style as the XPS3™ model, but the XPS2 does not have night vision-compatibility.
From the market about XPS2-SAGE Compact Holographic Weapon Sight
The XPS2-Sage Holographic Sight (Matte Black) from EOTech provides rapid heads-up-both-eyes-open target acquisition. It is specific for the Sage single and multiple projectile 37 mm rifled launchers for less lethal applications.
Because it's powered by a single transverse-mounted CR123A battery, the XPS2-Sage is shorter than the N and AA battery versions - yet it delivers the same parallax-free sighting capabilities. This EOTech holographic sight for sale requires a mere 2.75" of rail space. The battery cap is a simple screw-type cover that's o-ring sealed and tethered to the housing.
The control buttons are positioned on the side of the rugged aluminum housing for ease of operation. The illuminated reticle is calibrated to the specific trajectories of the Sage less lethal applications - the illumination system provides the operator with 20 brightness levels to choose from. The reticle combines a targeting and ranging reticle in one image.
Designed for today's modern battlefield; the XPS2-Sage is submersible to a depth of 10', and it's repeatable to 2 MOA after remounting. The rear window is a 3/16" thick shatterproof laminate with anti-glare and scratch resistant coatings, and the front lens is 1/8" solid glass. Because this EOTech holographic sight for sale is based upon transmission holography, parallax error is not an issue - a mission-critical feature that can save the situation when the going gets hot.
EOTech XPS2-SAGE (Matte Black) Ships with:
Limited 2 Year Warranty
island keys
storage case
Technical Specifications
Length:
3.8 in (97mm)
Width:
2.1 in (54mm)
Height:
2.5 in (64mm)
Weight:
9.0 oz (255g)
Mount:
1" Weaver or Mil-Std 1913 rail
Power Source:
3 volts, (1) 123 Lithium battery
Brightness:
20 settings
Water Resistance:
10 ft (3m)
Battery life:
Approx 600 hours at nominal setting 12 at room temperature
Color/Finish:
Black
Night vision compatible:
No
Reticle option(s):
• -0: 68 MOA ring with 1 MOA dot (XPS2-0)
• -1: 1 MOA dot (No ring) (XPS2-1)
• -2: 68 MOA ring with (2) 1 MOA dots (XPS2-2)
• FN303 Less Lethal reticle (XPS2-FN)
• SAGE Less Lethal reticle (XPS2-SAGE)
Questions on EOTech XPS2-SAGE Holographic Weapon Sight no Night Vision
No questions asked yet
Ask Your Own Question