EOTech XPS3-0 NV Holographic Weapon Sight 1 MOA Dot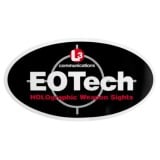 0% APR for 3 or 6 months or interest bearing for 12 months*
EOTech XPS3-0 NV Holographic Weapon Sight 1 MOA Dot
Night vision-compatible
Length/Width/Height:
3.5" x 2" x 2.4" (91.4 x 50.8 x 60.9 mm)
Weight:
8.0 oz (227 g)
Water Resistant:
Submersible to 33 ft. (10 m) depth
Mount:
1" Weaver or MIL-STD-1913 rail
Brightness:
20 daylight settings
10 additional settings for Gen I through III+ night vision devices
Power Source:
One 123 lithium battery
Battery Life:
600 continuous hours at nominal setting 12
EOTech XPS3-0 NV Holographic Weapon Sight 1 MOA Dot description
From Night Vision Guys about XPS3-0 Night Vision Compatible HWS
This EOTech night vision holographic sight is simple and reliable. As with most other EOTech products, XPS3-0 is well designed and very well built which allowed it to be one of the favorites in for hunters and tactical shooters around the world. If you are in the market for a reliable holographic red dot sight with night vision capability, look no further. XPS3-0 is powered by a single CR123A battery and equiped with a quick detach mount.
From the market about XPS3-0 Night Vision Compatible HWS
The XPS3 is smaller and lighter than all other holographic weapon sights but just as fast. Law enforcement officers and hunters appreciate the light weight and compact size for carrying convenience on the job and in the woods. The XPS3 night vision holographic sight runs on a single 123 battery. The single-lithium-battery configuration allows more rail space, leaving more room for rear-iron sights, magnifiers, or a night vision mount.
From EOTech about XPS3-0 Holographic Weapon Sight
The new XPS series of sights from EOTech are the shortest sights from EOTech to date which leaves you with more rail space than other EOTech sights. This smaller sight runs on a single CR123A battery which provides a life of up to 600 hours. Having a shorter sight allows for more room to mount detachable iron sights for backup, or to mount any other accessories you might want. EOTech XPS sights feature an integral mount for use on Picatinny or Weaver-style rails.
Technical Specifications
Length:
3.8 in (97mm)
Width:
2.1 in (54mm)
Height:
2.5 in (64mm)
Weight:
9.0 oz (255g)
Mount:
1" Weaver or Mil-Std 1913 rail
Power Source:
3 volts, (1) 123 Lithium battery
Brightness:
30 settings (10 for NV)
Water Resistance:
33 ft (10m)
Battery life:
Approx 600 hours at nominal setting 12 at room temperature
Color/Finish:
Black
Night vision compatible:
Gen I-III
Reticle option(s):
• -0: 68 MOA ring with 1 MOA dot (XPS3-0)
• -2: 68 MOA ring with (2) 1 MOA dots (XPS3-2)
Questions on EOTech XPS3-0 NV Holographic Weapon Sight 1 MOA Dot
No questions asked yet
Ask Your Own Question