FLIR Thermosight Pro PTS233 1.5-6x19 60Hz Thermal Weapon Sight with Boson 320x256
Model no:
TAB173WN9RX0011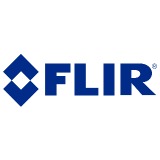 This product is no longer available
FLIR Thermosight Pro 1.5-6x19 60Hz Thermal Weapon Sight with Boson 320x256
High resolution FLCOS display
FLIR Boson core
Digital Compass and Digital Inclinometer
Multiple palettes
Multiple selectable reticle patterns
Onboard video recording and picture capture (Internal Storage)
USB C connectivity
Battery Status Indicator
Rapid start-up
Rugged construction
Reliable quick-release locking weapon mount
Limited 3-year warranty
10-year warranty on FLIR detector
Made in the USA
FLIR Thermosight Pro PTS233 1.5-6x19 60Hz Thermal Weapon Sight with Boson 320x256 description
FLIR Thermosight Pro 1.5-6x19 60Hz PTS233 Thermal Weapon Sight with Boson 320x256
The FLIR Thermosight Pro PTS233 thermal weapon sight is intended for use on a variety of hunting and sporting weapons equipped with a Picatinny/Weaver rail. Displaying the thermal differences in the scene, the high performance thermal imaging system of the Thermosight Pro TAB173WN9RX0011 model provides round-the-clock, all-weather detection and discrimination of heat-generating objects (such as animals), including those that are hidden. This thermal imaging weapon sighting is effective at close and long ranges regardless of light and weather conditions, such as in total darkness or through smoke, haze, fog, and light rain. Extremely reliable and versatile, the Thermosight Pro is a highly useful, multifunctional addition to any security or hunting weapon platform.
From Night Vision Guys about FLIR Thermosight Pro 1.5-6x19 60Hz Thermal Weapon Sight with Boson
If you have been paying attention to the consumer thermal imaging market, you saw 2 key trends developing in the last 5-7 years.  Prices are getting better and better while the capabilities of the devices are getting better and better as well.  This is great news for the consumers.  
The new 2017 FLIR Boson processor based Thermosight scope is not exception to the above trends.  Combining the latest in FLIR technology with robust and market tested body design from Armasight, FLIR Thermosight Pro series delivers the sharpest image on the market at incredibly affordable prices.  
If you are shopping for a new thermal scope, be sure to put this FLIR thermal imaging weapon sight on your list.
Thermal Imaging
Please note that most thermal devices are built per order. It may take 3-5 days or more for your order to ship. If timely shipping is important to you, please, contact us to verify availability prior to ordering.
Thermal devices can produce various types of images. Some are color others are monochrome. In either case change in shade or color indicates temperature differences.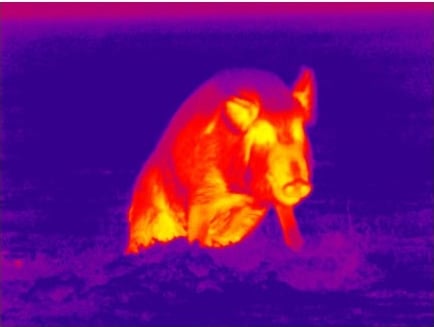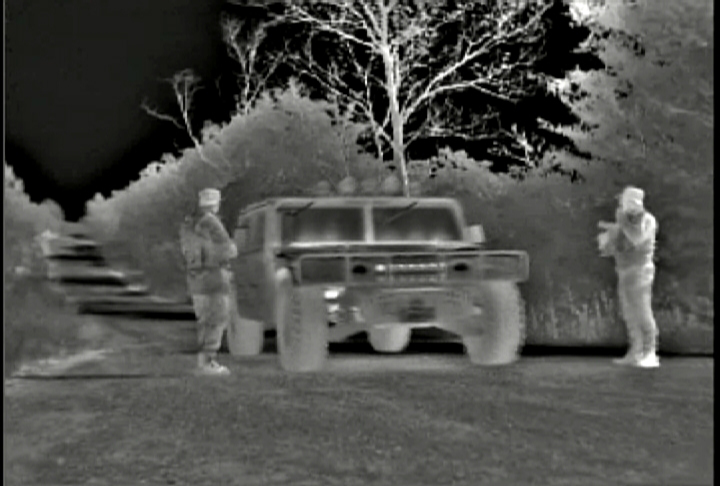 Here is how thermal imaging devices work...
A special lens focuses the infrared light emitted by all of the objects in view.
The focused light is scanned by a phased array of infrared-detector elements. The detector elements create a very detailed temperature pattern called a thermogram. It only takes about one-thirtieth of a second for the detector array to obtain the temperature information to make the thermogram. This information is obtained from several thousand points in the field of view of the detector array.
The thermogram created by the detector elements is translated into electric impulses.
The impulses are sent to a signal-processing unit, a circuit board with a dedicated chip that translates the information from the elements into data for the display.
The signal-processing unit sends the information to the display, where it appears as various colors depending on the intensity of the infrared emission. The combination of all the impulses from all of the elements creates the image.
There are a few key Manufacturers when it comes to thermal imaging.
ATN: produce such well knows devies as ThOR-HD thermal scope, BINOX-THD thermal binoculars, and OTS-HD thermal monocular.
FLIR/Armasight: the largest maker of consumer level thermal products is well knows for their full product line. Zeus thermal scopes, Q14 and Scout monoculars, Helios and Scout binoculars and many more.
Pulsar: a very popular brand for digital night vision and thermal imaging. Key products include Pulsar Trail and Apex thermal scopes and Pulsar Helion and Quantum thermal monoculars.
Seek: mobile device mounted thermal cameras are the main products of this brand.
Delivery Time and Manufacturing Process for FLIR Thermosight Pro PTS233 1.5-6x19 60Hz Thermal Weapon Sight with Boson 320x256:
Most of our manufacturers do not keep products like FLIR Thermosight Pro PTS233 1.5-6x19 60Hz Thermal Weapon Sight with Boson 320x256 assembled on the shelf. Night Vision tubes are kept separate from the body of the unit. When the order is placed, the manufacturer starts the order processing and assembly process which includes the following:
Order processing

- we collect all the necessary information including address and phone numbers. We also make sure that our customer ordered the correct product for their needs and that the product can be exported by US law to the country of destination. In some cases a signed export compliance form is required.

QC

- in this step the manufacturer will inspect all individual parts which will be used to assemble the night vision device for any defects.

Production & Assembly

- during production, all the parts are put together. Night Vision tubes in inserted into the body of the unit and all the complex electronics for the device are connected. This process takes place in a special lab called the "clean room" as even a small speckle of dust can cause undesired optical effect.

QA

- one the night vision device is assembled, it goes through a rigorous testing process to make sure it meets all the expected specifications and all parts function as expected. For this most manufacturers have a special "dark room" designed to allow testing of the units without causing incidental damage to the night vision tube by exposure to bright light.

Packaging

- this is a key process as well. In most case your night vision device will be shipped to you directly from the manufacturer but sometimes needs to be sent to us first. In either case items need to be packaged securely to avoid any kind of damage during transportation.

Shipping

- as described above items will most of the time ship from the manufacturer. For most domestic orders (unless shipping to POB or AFB) a premium shipper like FedEx or UPS will be used.
Only by following the above steps can we along with our manufacturers bring you - our customer - night vision products of highest quality, However as you can understand the above process can take several days to complete. For example if your device fails QA, the entire process restarts. Also at QC stage a manufacturer may realize that the tube they have in stock has a defect and a replacement tube needs to be ordered. Due to the complexity of this process, it is prudent to expect 3-4 business days for production and handling of the purchased device. Keep in mind that this process is designed to guarantee your satisfaction with the night vision device of your choice. It occasionally possible to expedite the process for urgent orders but addional fees or other restrictions may apply.
Technical Specifications
Sensor Specifications
Detector Type
320 x 256 VOx Microbolometer
Video Refresh Rate
60 Hz
Start Up
< 1.5 seconds
Image Processing
FLIR Proprietary Digital Detail Enhancement™
System Specifications
Lens System
19 mm; F/1.0
Optical Magnification
1.5×
Field of View (H x V)
12° × 9.5°
Digital Zoom
1x,2x, 4x
Diopter Adjustment Range
-5 to +5 dpt
Focusing Range
10 m to infinity (not focusable)
Eye Relief
45 mm
Display
Quad-VGA (1280 x 960) FLCOS
Video Output
Digital Video
Temperature Imaging Modes (Image Palettes)
Urban Alert, Outdoor Alert, Artic, Sepia, Ironbow HC, Rainbow, Black Hot, White Hot
Reticle Type
Dot 4 MOA, Line Dot, Cross Center Dot, Cross, Crosshair, and "No Reticle"
Reticle Color
Black, White, Red, Cyan, and High Visibility
Boresight Adjustment Type
Digitally Controlled
User Interface
Operation Switch
On/ Off/ Standby Mode
Control Panel Buttons
Configures Operational Settings:
• Display Brightness Control
• Image Palette Control
• Digital Zoom Control
• Reticle Color Control
• Reticle Pattern Control
• Boresighting Adjustment
• On-Screen Menu Navigation
Diopter Adjustment Ring
Adjusts the Eyepiece Diopter
Interfacing
USB-C Connector
Digital Video Out, Laser Range Finder Connections
Power
Battery Type
Two CR123A 3V Lithium batteries
Battery Life (Operating)
Up to 4 hr
Environmental
Operating Temperature Range
-20°C to +50°C (-4°F to +122°F)
Storage Temperature Range
-40°C to +60°C (-40°F to +140°F)
Physical
Weight
0.65 kg (1.44 lbs)
Size
220x68x84 mm (8.7x2.7x3.3 in)
Weapon Mount Type
Picatinny, MIL-STD 1913, and Weaver Rails
Recoil Rating
7.62x51mm NATO (.308)
Color (housing)
Black
Country Of Origin
USA
Package Includes
Thermal Weapon Sight, CR123A Battery (2), Battery Cassette, Quick Start Guide, Soft Carrying Case
Questions on FLIR Thermosight Pro PTS233 1.5-6x19 60Hz Thermal Weapon Sight with Boson 320x256
---
Q: how would the over all performance of this thermal scope compare too the armasight predator 640...
A: Hi Don. They will be similar in many ways, but the new Boson thermal core will provide faster and sharper image quality.
---
Q: When will you have these scopes in stock and ready to ship?
A: Hi Tony. we are expecting to have a enough to fill backorders and a few extras within about 7-10 days.
---
Q: Does this unit record and store internally or does it record the hunt on SD card where I can watch it without the unit
A: Hi Will. This thermal scope has a video connector, but does not record by itself. You would need to pair it up with a portable digital recorder.
---
Q: Is there an option for an external battery pack?
A: Hi James. Yes, absolutely, external battery pack is available for this and other thermal scopes by FLIR and Armasight.
---
Q: Have your received these units yet? If not, when is the current expected shipping date on them? Thank you in advance for your help.
A: hi John. Hoping to get them in 7-10 days. Won't know for sure until we have them.
---
Q: Im a noob to night vision. Do you need to have a infared illuminator/light attached to your gun for it to opperate? Like the ATN ones that i hate... or does FLIR just do its magic all from the unit?? No extra lights..
A: Hi Estevan IR Illuminators are used for night vision devices as you noted to improve image quality and brightness. This particular scope is a thermal imaging device which uses a completely different technology and does not require and illuminator. Thermal rifles scopes can be used both day and night and they operate based on thermal signature of objects. So animals are typically hot blooded and are therefore warmer than the background. ATN makes thermal rifle scopes as well, they are called ThOR HD. They use the same technology. Please let us know if you have any further questions.
---
Q: How would this compare to the armasight predator 336? And what would be the effective dectection range of this unit?
A: Hi Matt. These units are very similar. The key with the new Boson thermal core is the smaller pixel size. This should increase image quality and core sensitivity. Effective detection range depends on the type of target. If you are talking about a pig, I would say at least 300-400 to detect.
---
Q: Learned about this scope from Lone Star Boars and have been looking for one ever since. I was told by another distributor that there is a problem with the optic and FLIR is no longer shipping them and there is no ETA for when they will. You have mentioned that you will have more in "7 to 10 days". Was I mislead about the problem with these optics?
A: Hi Tony. I am curious to understand more about who and what exactly told you about this scope. We are aware of some minor issues which are being worked on but certainly nothing to the degree you are describing. Any chance we can speak over the phone to discuss additional details?
---
Q: The sight still says will ship last week of september/preorder. I already paid and its 2 weeks into october... are they shipping or whats going on?
A: Hi Steven. sorry for the inconvenience and thank you for pointing out the stale message on the website. The guidance we are getting from FLIR at the moment is for October 31. Once again, sorry for the delay but it is out of our control unfortunately. We are at the mercy of the manufacturer.
---
Q: Is this the FLIR PRO PTS233 with different product designation?
A: Hi Ron. Yes, this is thermal scope is what used to be called PTS233 when it was initially announced.
---
Q: Is the FLIR Thermosight Pro 1.5-6x19 30Hz Thermal Weapon Sight with Boson 320x256 rated for .308/7.62x51 recoil? Looking to run on a SCAR 17s.
A: hi Marc. Sorry for the delay. We wanted to double check this information. From what we are being told, this setup should be just fine for Thermosight Pro.
---
Q: What is the identification range of the 223 ? How does this compare to Pulsar XQ 38 ?
A: Hi Ron. We do not have official numbers from FLIR yet, however, I would expect it to be close but a bit lower than the Pulsar due to a smaller objective lens. Size of the lens of a thermal scope is a huge factor in this.
---
From
David Morgenstern
on
Q: It's November 2nd, is the FLIR Thermosight Pro 1.5-6x19 30Hz Thermal Weapon Sight with Boson 320x256 TAB173WN9RX0011 for $2199 available?
A: Hello Mr Morgenstern. I just found out that we have a handful of units arriving tomorrow to cover some of the backorders and another shipment in 2-3 weeks to cover the rest. New orders can expect a 30-40 day wait period.
---
Q: Can rechargeable batteries be used? I can use them on my Armasight Zeus 640 75mm.
A: Hi Mike. Batteries should be cross compatible between Zeus and Thermosight Pro. However, with rechargeable batteries, you need to be very careful. If they output more voltage than expected they can damage the unit.
---
Q: What is the detection range on the Flir 233. How far out can it detect a human? Thank You
A: Hi Mike. Detection for a human sized target is 300 yards for FLIR Thermosight Pro also known as PTS 233.
---
Q: Currently I'm really on the fence with the Thermosight PTS233 & the Armasight predator 336. would it be possible for you guys to post a side by side video comparison of the two? My main concerns circulate around the image quality and Resolution, particularly in identifying hog, deer, coyotes, bobcats, etc.
A: Hi Jojo. The Boson core seems like a better option. There may be a bit longer wait on delivery as they are shipping in very small quantities, but unless you are in a rush, go with that.
---
Q: I ordered my scope and you charged my credit card on November 27th of 2017 and it's not here yet. I know they're backordered but am hoping for an approximate ship date.
A: Hi Bob. Thank you for your business and patience! We are working through the queue of backorders. It is hard to be sure of the date because we get shipments from FLIR in unpredictable increments. I can assure you of two things. One - your money is safe with us, you can ask for a refund at any time before we ship. Two - we are doing the best we can to ship out the scopes as quickly as possible to all our customers. We will provide you with updates via email once something concrete is available.
---
Q: I've been really interested in this unit because of the features, is there a Pulsar that it can be compared to for the price? I want the clearest unit I can get for the money. I'm debating the Flir vs Pulsar, please help.
A: Hi Mario. Hard to pin the two vs each other. Both manufacturers make very good products. Apex XQ38 is probably the closest in terms of features and price, but I can't honestly say that I would pick one scope over another. Both offer very similar features and a great value. If you want to discuss these two models with one of our product experts, they may be able to identify something that decides the choice for you. Let us know if you would like to get a call back.
---
Q: Flir has a product called Flir one pro for iOS. It is only $400 and it's awesome! Only if it had a reticle and picatinny mount.. It integrates visible light with infrared to create a really nice, user-friendly picture during the day. Is there, or you see a product coming out like this for hunting? Thanks!
A: Hi Steve. the product you are talking about is a thermal camera for an iphone. It is much cheaper because it uses a very small lens, relies on your phone for most of the processing and does not need to be recoil resistant. The bottom line is that once you add all the things I just described to a thermal scope, you get this Thermosight Pro.
---
Q: I'm considering one of the flir 233 for calling in cyotes and bobcat on a 223 bolt gun my shots will be 200 yards max will this optic suit my needs or do i need to step up a bit in optics?
A: Hi Blake. It will be pushing a little. I would suggest a 50mm lens thermal scope at least.
---
Q: When do you expect to have this unit in stock?
A: Hi Heath. We are expecting a shipment in the next couple of weeks. It will mostly cover backorders, but we may have a couple of units left for more recent orders.
---
Q: Hello, I see these are back ordered again, must be popular. When do you think you will be getting a restock? Also, if I understand correctly, this is 60Hz. Meaning the refresh rate is very high on the screen, close to real time. correct?
A: hi Joe. We are hoping to get our next shipment of Thermosight Pro thermal scopes in about 2 weeks. We should have a couple units left over for newer orders as most of it will go to cover backorders. 2 weeks is an estimate given to us by FLIR, so we cannot guarantee it to you unfortunately. This model is 60hz.
---
Q: Hello all, what is the largest caliber of rifles this Thermosight ProPTS233 can handle?
A: Hi Nesto. FLIR Thermosight Pro thermal scopes have Recoil Rating set at 7.62x51mm NATO (.308).
---
Q: I received my PTS233 5 weeks ago from OpticsPlanet (before I knew about you guys) and mounted to my AR15. After setting up per the instructions and while sighting in, it froze up and turned off. I turned back on and it did it again. I call Opticsplanet and they refered me to FLIR. I contacted FLIR and they sent me a RMA shipping label. I only had it in hand 2 weeks and now after 3 weeks of FLIR trying to determine the root cause but are having problems with recoil. I convinced them to send me a new unit. Here's the real zinger; OpticsPlanet told be that if I have mounted it on a weapon and shot with it, they could not refund me if I am dissatisfied. So now I'm stuck with a thermal that I hopefully won't have to return because per FLIR, there getting returns for the same issue. Shame on OpticsPlanet for not disclosing this in their return policy for all scopes and/or product that is designed to be mounted and fired on a weapon in order to be functional. If I would have purchased it from you guys, what would you have done. I plan on buying more night vision products for varmint hunting
A: Hi Bushraghunt. In general, if the unit is working as expected, we have the same policy. The problem is that once the scope is mounted we cannot sell it as new or even return it to the manufacturer. However, if there are issues with the device, we do not leave our customers hanging. We would have gotten you the RMA label and worked out the replacement or repair.
---
Q: Any update on shipping dates? Order one 2 weeks ago and wasn't contacted that they were back ordered. Assuming it was.
A: Hi Dakota. At the moment we are hoping to ship in 2 weeks or so. That's based on the current guidance from FLIR.
---
Q: Has there been a shipping update? The item still doesn't have a shipping update and doesn't say it's been back ordered. Order was placed on 6/13 and haven't received an estimated shipping date. Please advise.
A: Hi Rob. Mid July is the current guidance from FLIR. Sorry for the delay, but we have little control over the manufacturer supply chain.
---
Q: Hey could the FLIR thermal be used as a clip on unit?
A: Hi Blake. No, FLIR Thermosight Pro 1.5-6x19 60Hz is a dedicated thermal scope. You would need to buy a thermal clip-on to get the capability you are looking for. Please let us know if you have any further questions.
---
Q: I'm looking for nightvision/thermal for mounting on my 450 bushmaster. Is this scope rated for the recoil, and if not do you have a suggestion for what is
A: Hi Brian. Thermosight Pro thermal scopes will do fine on your gun. We are certainly happy to have a chat to make sure that the scope you get will satisfy your needs. Let us know the best way to get in touch.
---
Q: Image quality of PTS233 vs Armasight predator 640 30hz (**NOT 336**) Does the Boson core and high resolution viewfinder of PTS233 really make a 320 image Predator"640" clear as some suggest? What about during less than ideal conditions like high humidity? Does the PTS233 image hold up to 640? Onboard photo/video recording is not a dealbreaker for me. I want BEST image quality out to 150yds max
A: Hi Glen. The 640 thermal scope will still do better. For the money Boson gets very close, but it is not 640.
---
Q: How would you compare this scope to the Pulsar Apex XQ38?
A: Hi Frank. This is a hard question to answer without knowing more about your needs. XQ38 has a greater optical zoom while FLIR thermal scope has the newest Boson core. We would need to hear about your typical hunting conditions, game, type of weapons used, shot distances, etc. Once we have that information we can tell you which scope would fit better in your arsenal.
---
Ask Your Own Question