Firefield T300+ Flashlight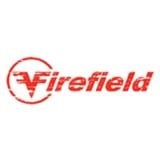 304 Lumen White Led
Variable Brightness And Strobe Mode
Push On/off And 360 Degree Activation Mode
Lightweight And Durable
Weatherproof And Shockproof
Diamond pattern texture for non-slip grip
Firefield T300+ Flashlight description
The Firefield T300+ Flashlight is a lightweight and durable flashlight with a variable brightness: high at 304 lumens, low at 80 lumens and a 304 lumens strobe model. The Firefield T300+ Tactical Flashlight is one of the brightest flashlights for its size on the market. The on/off push button and 360° activation mode allows for activation in any direction, requiring little pressure in emergency situations or when mounted on an AR-15. The compact and lightweight Firefield T300+ Flashlight with a weatherproof and shockproof frame can be stored in a pocket.
Technical Specifications
Bulb Type - White LED
Diameter, Bezel, mm - 30
Output Max - 304 lumens, 80 lumens, Strobe 304 lumenslumens
Battery life, hours - High-2 hours, Low-6 hours, Strobe-2.5 hours
Battery Type - 3x AAA
Finish/Color - matte black
Waterproof Rating - IPX6 (weatherproof)
Operating Temperature - 0 to 122F
Dimensions, mm - 119mmx32mm dia.
Weight, oz - 4.3oz w/ batteries
Questions on Firefield T300+ Flashlight
No questions asked yet
Ask Your Own Question