Sniper Hog Lights 66LRX Gun Hunters Package with 3 colors (Red, Green, White)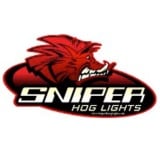 0% APR for 3 months or interest bearing for 6/12 months*
Sniper Hog Lights 66LRX Gun Hunters Package with 3 colors (Red, Green, White)
With this package you getthe following 3 heads:
White
Red
Green
Adjustable focus so you can go from a flood beam to spot beam allowing you to put just the right amount of light on your target.
Interchangeable LED modules so you can easily change the color.
We now have dimmer tail caps available for this light on our product page so you can have full control over your lights brightness.
Fully interchangeable with our 38LRX and 50LRX lights so you can easily convert this light to our 38LRX or 50LRX by buying a 38LRX or 50LRX head.
Runs on 1 18650 Rechargeable battery.
Max distances each color will shine in yards: Red = 640, Green = 744, White = 1023, IR = 1700+ using a Gen 3 scope.
The Sniper Hog Lights 66LRX Gun Hunters Package can be easily mounted to a 30mm or 1" scope tube or rail with our included Windage and Elevation mount.
The hog lights can be used as a normal flashlight with the included normal flashlight tail cap.
5 year warranty on the housing and LED. 2 years on any external wiring, switches and mounts.
Please note that the videos below are of our discontinued 66LR lights but the instructions are the same for the 66LRX light.
Sniper Hog Lights 66LRX Gun Hunters Package with 3 colors (Red, Green, White) description
Sniper Hog Lights 66LRX Gun Hunters Package with 3 colors (Red, Green, White)
This package comes with
1 - 66LRX rifle light with remote wired Eliminator switch that you can turn the light on half power or full power and works both as a pressure switch and on/off switch.
3 - LED modules in your choice of color(Red, Green, White, IR). The LED module color determines the color of light your light will emit. Choose your LED modules color and email us after you place you order or we will contact you directly. LED modules can be changed in the light in just seconds as it simply screws in and out.
1 - Lens cover to protect the lens when not in use.
1 - Normal flashlight tail cap
1 - 18650 Battery charger with both A/C and D/C power cords.
2 - 18650 3400ma protected batteries made by Panasonic.
1 - Windage and Elevation adjustable mount that will mount to 1 inch and 30mm scope tubes and to a weaver/picatinny rail.
Choose your normal flashlight tail cap in the options above.


Technical Specifications
Made out of aircraft grade aluminum and hard anodized to resist scratching.
Weighs about 14 ounces with battery.
About 7 inches long in flood beam and about 7.5 inches long in spot beam.
Head is about 2.75 inches across with a 1 inch body.
Lumens, Red = 250, Green = 300, White = 400.
Run times: Red and IR = 2.5 hours at full power with almost no dimming, Green and White = 2 hours at full power with little dimming and then another 2 hours with the light slowly dimming.
The 66LRX is simply the furthest shinning Led light on the market..
Will clear all scopes objectives up to 55mm with our windage and elevation adjustable mount.
We highly recommend you mount it to your scope so you can easily reach the Windage and Elevation adjustments while hunting.
Questions on Sniper Hog Lights 66LRX Gun Hunters Package with 3 colors (Red, Green, White)
No questions asked yet
Ask Your Own Question