Armasight Zeus 640 3-24x75 30hz Thermal Riflescope
Model no:
TAT163WN7ZEUS31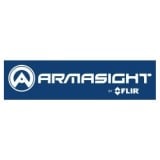 This product is no longer available
Armasight Zeus 640 3-24x75 30hz Thermal Riflescope
The lightest and most compact scope in its class
Optical Magnification 3.2x(PAL)/ 2.7x(NTSC)
The latest Tau 2 17-micron uncooled FLIR core technology
Pixel Array Format: 640×512
Display Type: AMOLED SVGA 800x600
Easy and Intuitive Drop-down user interface
Digital E-Zoom: 1x, 2x, 4x, and 8x
Color Modes: White Hot/ Black Hot/ Rainbow/ Various Color Modes
Made in USA
3 Year Warranty / 10 Years on Thermal Core
Armasight Zeus 640 3-24x75 30hz Thermal Riflescope description
The Armasight Zeus is the new line by Armasight in thermal imaging technology, and they are incredible night vision devices for anyone interested in riflescope technology that won't let you down in any weather conditions. Excellently crafted to be used for everything from hunting to Military and Law Enforcement needs, these Armasight Zeus 640 night vision riflescopes are so far beyond what light amplification night vision can do. Regardless of the tactical nuances that you face, nothing could be better than high grade thermal imaging technology to help you in target acquisition.
If you are not yet sure if thermal imaging technology is for you, ask yourself one question, is it worthwhile to know you will be able to see your target, even in inclement weather conditions? If so, then the answer is easy. You must invest in thermal imaging technology, because in bad weather conditions other night vision technology definitely has the potential to let you down. Thermal imaging promises you an incredible and clear night time view of the field, but not just when the sky is clear. Even in rain and fog and other bad weather conditions, targets still give off heat, which means thermal imaging still works.
Another advantage of thermal imaging over other night vision technology is camouflage. A well selected camouflage outfit can hide a lot from even the well trained eye, but it can't hide from thermal imaging technology. This is yet another way that a simple thermal imaging clip on scope upgrades your entire tactical arsenal; it is simple and very effective.
The model that you are currently looking at is the Armasight Zeus 3 640-30 thermal rifle scope which offers a refresh rate of 30 hz, a pixel array format of 640 x 512, a FLIR Tau 2 Focal Array, and a magnification of 2.7x/3.2x.
This Armasight Zeus 640 ships with an Advanced Wireless Remote Control, a hard shipping and storage case, an operation manual with warranty card, a lens cap, a packing box, a Picatinny adaptor for the Advanced Wireless Remote Control, a Quick Release Mount, a soft carrying case, and 2 CR123A lithium batteries.
The Armasight Zeus ships with a two year warranty.
As with all our Night Vision and Thermal Imaging devices, Night Vision Guys offers competitive pricing on the best devices. The high quality of these devices guarantees that they will meet your expectations and serve you well. Buying these units from NightVisionGuys.com guarantees quick handling as well as excellent service and price.
Thermal Imaging
Please note that most thermal devices are built per order. It may take 3-5 days or more for your order to ship. If timely shipping is important to you, please, contact us to verify availability prior to ordering.
Thermal devices can produce various types of images. Some are color others are monochrome. In either case change in shade or color indicates temperature differences.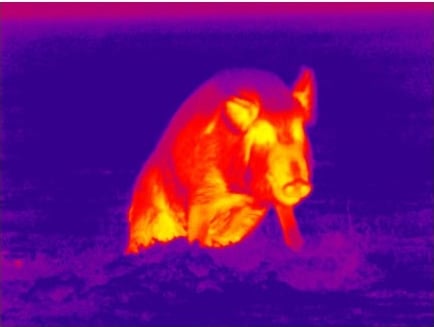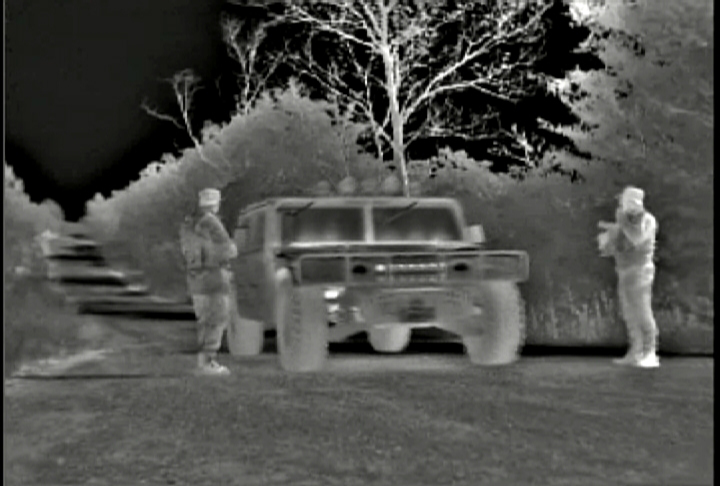 Here is how thermal imaging devices work...
A special lens focuses the infrared light emitted by all of the objects in view.
The focused light is scanned by a phased array of infrared-detector elements. The detector elements create a very detailed temperature pattern called a thermogram. It only takes about one-thirtieth of a second for the detector array to obtain the temperature information to make the thermogram. This information is obtained from several thousand points in the field of view of the detector array.
The thermogram created by the detector elements is translated into electric impulses.
The impulses are sent to a signal-processing unit, a circuit board with a dedicated chip that translates the information from the elements into data for the display.
The signal-processing unit sends the information to the display, where it appears as various colors depending on the intensity of the infrared emission. The combination of all the impulses from all of the elements creates the image.
There are a few key Manufacturers when it comes to thermal imaging.
ATN: produce such well knows devies as ThOR-HD thermal scope, BINOX-THD thermal binoculars, and OTS-HD thermal monocular.
FLIR/Armasight: the largest maker of consumer level thermal products is well knows for their full product line. Zeus thermal scopes, Q14 and Scout monoculars, Helios and Scout binoculars and many more.
Pulsar: a very popular brand for digital night vision and thermal imaging. Key products include Pulsar Trail and Apex thermal scopes and Pulsar Helion and Quantum thermal monoculars.
Seek: mobile device mounted thermal cameras are the main products of this brand.
Delivery Time and Manufacturing Process for Armasight Zeus 640 3-24x75 30hz Thermal Riflescope:
Most of our manufacturers do not keep products like Armasight Zeus 640 3-24x75 30hz Thermal Riflescope assembled on the shelf. Night Vision tubes are kept separate from the body of the unit. When the order is placed, the manufacturer starts the order processing and assembly process which includes the following:
Order processing

- we collect all the necessary information including address and phone numbers. We also make sure that our customer ordered the correct product for their needs and that the product can be exported by US law to the country of destination. In some cases a signed export compliance form is required.

QC

- in this step the manufacturer will inspect all individual parts which will be used to assemble the night vision device for any defects.

Production & Assembly

- during production, all the parts are put together. Night Vision tubes in inserted into the body of the unit and all the complex electronics for the device are connected. This process takes place in a special lab called the "clean room" as even a small speckle of dust can cause undesired optical effect.

QA

- one the night vision device is assembled, it goes through a rigorous testing process to make sure it meets all the expected specifications and all parts function as expected. For this most manufacturers have a special "dark room" designed to allow testing of the units without causing incidental damage to the night vision tube by exposure to bright light.

Packaging

- this is a key process as well. In most case your night vision device will be shipped to you directly from the manufacturer but sometimes needs to be sent to us first. In either case items need to be packaged securely to avoid any kind of damage during transportation.

Shipping

- as described above items will most of the time ship from the manufacturer. For most domestic orders (unless shipping to POB or AFB) a premium shipper like FedEx or UPS will be used.
Only by following the above steps can we along with our manufacturers bring you - our customer - night vision products of highest quality, However as you can understand the above process can take several days to complete. For example if your device fails QA, the entire process restarts. Also at QC stage a manufacturer may realize that the tube they have in stock has a defect and a replacement tube needs to be ordered. Due to the complexity of this process, it is prudent to expect 3-4 business days for production and handling of the purchased device. Keep in mind that this process is designed to guarantee your satisfaction with the night vision device of your choice. It occasionally possible to expedite the process for urgent orders but addional fees or other restrictions may apply.
Technical Specifications
| | |
| --- | --- |
| Magnification (NTSC/PAL) | 2.7x / 3.2x |
| Objective Lens Type | Germanium |
| Type of Focal Plane Array | FLIR Tau 2 |
| Pixel Array Format | 640×512 |
| Pixel Size | 17 mkm |
| Resolution | 0.23 mrad |
| Refresh Rate | 30 Hz |
| Display Type | AMOLED SVGA 800×600 |
| Turn-on Time, max | 3 sec |
| Digital Zoom | 1x, 2x, 4x, and 8x |
| Image Palettes | White Hot, Black Hot, Fusion, Rainbow, Globow, Ironbow 1, Ironbow 2, Sepia, Color 1, Color 2, Ice-Fire, Rain, and Custom |
| Reticle Type | 6-Pattern Digitally Controlled: "Dot 4 MOA", "Line Dot", "Cross Center Dot", "Cross", "Crosshair", and "No Reticle" |
| Reticle Color | Black, White, Red, Cyan |
| Boresight Adjustment Type | Digitally Controlled |
| Boresight Increment | 0.76 MOA |
| Analog Input and Output Format | PAL / NTSC |
| Field of View — ang. (X / Y) | 4.3 degrees / 3.3 degrees |
| Objective Focal Length | 75mm |
| Objective F-number | 1:1.3 |
| Exit Pupil Diameter | 10 mm |
| Eye Relief | 45 mm |
| Focusing Range | 10 m to infinity |
| Diopter Adjustment | Manual |
| Diopter Adjustment Range | -5/+5 diopter |
| Battery | Two CR 123A (2×3V) |
| Operating Temperature | -40 to +57°C (-40 to +134°F) |
| Battery Life at 20 °C (68 °F) | up to 4 hr |
| Storage Temperature | -50 to +85°C (-58 to +185°F) |
| Dimensions | 275×70×80 mm (10.8"×2.8"×3.2") |
| External Power Supply | 6 VDC/ 1 А |
| Weapon Mount Type | Picatinny MIL STD 1913 and Weaver Rails |
| Weight | 0.8 kg (1.8 lbs) |
| Warranty | 3 Years unit / 10 Years on FLIR Core |
Questions on Armasight Zeus 640 3-24x75 30hz Thermal Riflescope
---
Q: Up to what caliber is this model rated for?
A: Hi Ruben. Armasight Zeus thermal scope is rated for 50 caliber, but our typical recommendation is .308. Please let us know if you have any further questions or need advice on the best Zeus model for your application.
---
Q: Are the thermal scopes factory new ? I want to make sure they are factory new and not returns or refurbished units,
A: Hi Perry. When we sell a refurbished or a used unit we make it very clear that it is now new. We currently do not have a single thermal scope on the site which is not brand new. Most scopes ship directly from the manufacturer and require a few days to get manufactured for your order or if you are lucky to buy a scope which we happen to have in stock it is typically 1-2 weeks old as we almost never end up having them on the shelf for longer than that. Please let us know if you have any further questions or if you need help picking the best thermal for your specific application.
---
Q: Is this the current newest version of this sight? Your pictures show only a single lever quick detach mount, while on the Armasight website, they show a double lever style.
A: Hi Mark. You will get the most current model. Our images are often outdated as we load products when they first come to the market. We will review this one and updated images since you pointed this out.
---
Q: Can you explain the difference between 30hz and 60hz in layman's terms? Can you also tell me the major difference between the pro version versus the regular version? Thanks
A: Hi Brad. 30 vs 60hz is easy to visualize if you are familiar with the television refresh rates. On older LCD TV's with low refresh rates you would see jagged contour around fast moving object. For example when watching sports. The same thing with thermal devices. If nothing is moving, you will see 0 difference. But when tracking a running hog with a thermal scope, you will see a sharper image at 60hz than 30hz. How much difference that makes is up to personal taste, but in general people tend to be ok with spending a little extra for it. The Pro model offers better optics and higher quality construction. Again depending on your circumstances, you should pick what makes the most economical sense. However, if you will be mounting on a high recoil weapon you certainly want the Pro models. We are always happy to discuss over the phone to help you pick the right device for your needs and budget.
---
Ask Your Own Question