EOTech EXPS3-2 NV Holographic Weapon Sight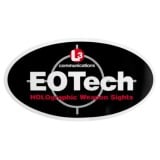 0% APR for 3 or 12 months or interest bearing for 18 months*
EOTech EXPS3-2 Compact Holographic Weapon Sight
Night vision compatible
Length/Width/Height:
3.5" x 2" x 2.4" (91.4 x 50.8 x 60.9 mm)
Weight:
11.2 oz (317 g)
Water Resistant:
Submersible to 33 ft. (10 m) depth
Mount:
1" Weaver or MIL-STD-1913 rail
Brightness:
20 daylight settings
10 additional settings for Gen I through III+ night vision devices
Power Source:
One 123 lithium battery
Battery Life:
600 continuous hours at nominal setting 12
EOTech EXPS3-2 NV Holographic Weapon Sight description
From Night Vision Guys about EXPS3-0 Night Vision Compatible HWS
There are many good quality holographic sights on the market today.  However, few are as well built and as widely used as the EOTech's EXPS3 series.  This particular model - EXPS3-2 is a black night vision compatible HWS with a 2 dot reticle in 65 MOA ring.  EXPS3 series holographic sights use CR123A battery.
From the market about EXPS3 Series Holographic Weapon Sights
EOTech EXPS3 Extreme Holosight is the shortest, lightest holographic weapon sight on the market today, and allows for an elevated level of precision in short to medium range tactical environments like never before. This red dot sight fromL3 Eotech delivers two-eyes open shooting ability plus a 7mm raised base for iron sight access. The EOTech EXPS-3 Red Dot Sight features easily adjustable side buttons with a single, quick release throw lever to easily attach or remove the sight. With EOTech red dot sight reliability, you get rugged construction packed with premium optical quality. TheEOTech EXPS 3 Waterproof HWS requires 2 3/4 inches of rail space at most thanks to a shortened base. The waterproof and fogproof design will withstand tough environments and perform in any tactical environment. Plus with the average battery life being between 500 to 600 hours, you can be sure the EOTech EXPS 3 Holographic Weapon Sightis ready for action at any moment, whether day or night.
From EOTech about EXPS3-2 Night Vision Compatible 
The "E" is for "Extreme." The EXPS3 offers true 2-eyes-open shooting and a 7 mm raised base that still allows for iron sight access. It features easy-to-adjust side buttons and an adjustable, locking, quick-detach lever for easy attachment and removal.

EXPS3 was chosen by the U.S. Special Operations Command (USSOCOM) as their primary optic for close-quarter engagements.

It is also the optic of choice for the technologically advanced modern rifle hunter. Its night vision-compatibility makes it a versatile choice for day or night hunting.
Technical Specifications
Length:
3.8 in (96.5mm)
Width:
2.3 in (58.4mm)
Height:
2.9 in (73.7mm)
Weight:
11.2 oz (317.5g)
Mount:
1" Weaver or Mil-Std 1913 rail
Power Source:
3 volts, (1) 123 Lithium battery
Brightness:
30 settings (10 for NV)
Water Resistance:
33 ft (10m)
Battery life:
Approx 600 hours at nominal setting 12 at room temperature
Color/Finish:
Black or Tan
Night vision compatible:
Gen I-III
Reticle option(s):
• -0: 68 MOA ring with 1 MOA dot (EXPS3-0)
• -2: 68 MOA ring with (2) 1 MOA dots (EXPS3-2)
• -4: 60 MOA ring with (4) 1 MOA dots (EXPS3-4)
Questions on EOTech EXPS3-2 NV Holographic Weapon Sight
No questions asked yet
Ask Your Own Question