Armasight MNVD-40 2QS Multi-Purpose Night Vision Monocular
Model no:
NSMNYX14M4Q9DI1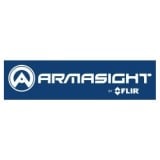 This product is no longer available
Armasight MNVD-40 2QS Multi-Purpose Night Vision Monocular
EXCEPTIONAL VISION
Manual Variable Gain Control and Built-in Infrared Illuminator
MNVD is equipped with manual variable gain control so that the image brightness level can be selected by user to adjust for ambient light level in his area of operations.
Built-in IR illuminator and flood lens enhances night vision and allows for reading in the dark.
COMPACT AND RUGGED
Perfect Balance of Size and Performance
Built with a tough, ergonomic composite housing.
Needing only a single AA battery or one CR123 battery for convenient operation, can run up to 40 hours.
FLEXIBLE MOUNTING OPTIONS
Packed with Features for a Versatile and Customizable Viewing Experience
For hands-free operation, the MNVD includes head and helmet mounting options, it can be used as a night vision system that enables mobility, driving, short-range surveillance, and low light reading.
Operated by a single gain control knob, the MNVD utilizes features like a flip-up-turn-off, and a flip-down-turn-back-on option when mounted to a helmet.
Armasight MNVD-40 2QS Multi-Purpose Night Vision Monocular description
Armasight MNVD-40 2QS Multi-Purpose Night Vision Monocular NSMNYX14M429DH1
The Armasight by FLIR MNVD is a multi-purpose night vision monocular. It can be hand held, head mounted, helmet mounted, or weapon mounted. With a 40° field of view (FOV), it provides a large visual field without needing to move the monocular. The MNVD uses advanced multi-coated optics and is built to last with a compact composite housing. Operating from a single AA alkaline battery or CR123A battery, the MNVD can run up to 40 hours.
With this new line of MNVD-40 night vision monocular Armasight is locking down the niche for multi-purpose monocs which can be used as a goggle as well as handheld and yet offer cheaper accessories and compact size. This particular model offers a "quick silver" night vision tube which delivers a grey image instead of the traditional green.  This is a very good quality tube with high end Gen 2 specs.
Included Accessories for MNVD-40 night vision monocular
Packing Box
Soft Carrying Case
Battery
Lens Tissue
Quick Start Guide
Gen QS Night Vision
Please note that most high end night vision devices are built per order. It may take 3-5 days or more for your order to ship. If timely shipping is important to you, please, contact us to verify availability prior to ordering.
Gen 2+ QS "Quick Silver" White Phosphor IIT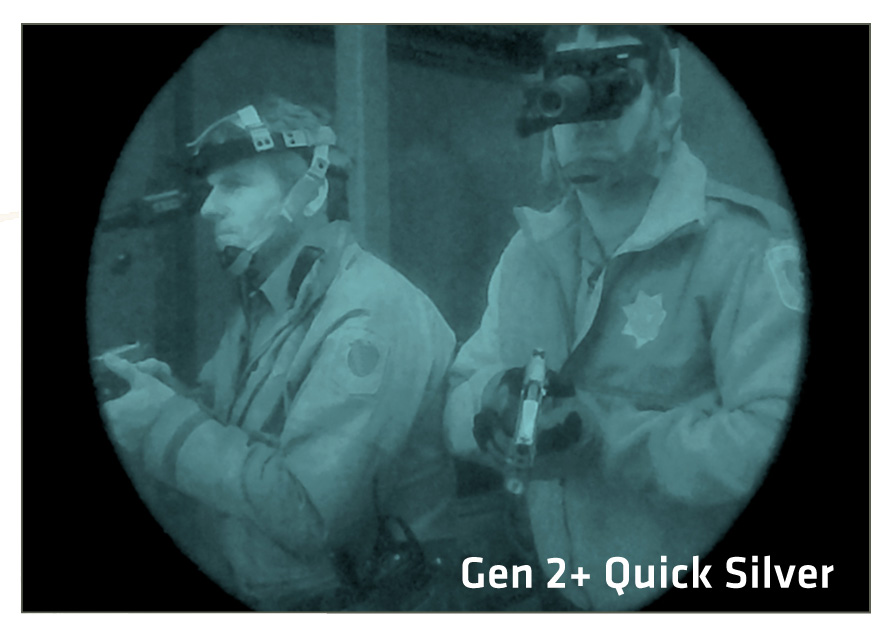 Experienced professionals know that nighttime scenes appear much more natural when displayed in black and white rather than the typical "night-vision green." Our unique "Quick Silver" Gen 2+ IITs are characterized by high-contrast, white phosphor screens that offer black and white displays, which provide clearer details, better contrast, and more distinct shapes and shadows. They include a multi-alkali photocathode, a Resolution range of 47 to 54 lp/mm, and a Signal-to-Noise Ratio of 15 to 23. International versions are available for export.
Delivery Time and Manufacturing Process for Armasight MNVD-40 2QS Multi-Purpose Night Vision Monocular:
Most of our manufacturers do not keep products like Armasight MNVD-40 2QS Multi-Purpose Night Vision Monocular assembled on the shelf. Night Vision tubes are kept separate from the body of the unit. When the order is placed, the manufacturer starts the order processing and assembly process which includes the following:
Order processing

- we collect all the necessary information including address and phone numbers. We also make sure that our customer ordered the correct product for their needs and that the product can be exported by US law to the country of destination. In some cases a signed export compliance form is required.

QC

- in this step the manufacturer will inspect all individual parts which will be used to assemble the night vision device for any defects.

Production & Assembly

- during production, all the parts are put together. Night Vision tubes in inserted into the body of the unit and all the complex electronics for the device are connected. This process takes place in a special lab called the "clean room" as even a small speckle of dust can cause undesired optical effect.

QA

- one the night vision device is assembled, it goes through a rigorous testing process to make sure it meets all the expected specifications and all parts function as expected. For this most manufacturers have a special "dark room" designed to allow testing of the units without causing incidental damage to the night vision tube by exposure to bright light.

Packaging

- this is a key process as well. In most case your night vision device will be shipped to you directly from the manufacturer but sometimes needs to be sent to us first. In either case items need to be packaged securely to avoid any kind of damage during transportation.

Shipping

- as described above items will most of the time ship from the manufacturer. For most domestic orders (unless shipping to POB or AFB) a premium shipper like FedEx or UPS will be used.
Only by following the above steps can we along with our manufacturers bring you - our customer - night vision products of highest quality, However as you can understand the above process can take several days to complete. For example if your device fails QA, the entire process restarts. Also at QC stage a manufacturer may realize that the tube they have in stock has a defect and a replacement tube needs to be ordered. Due to the complexity of this process, it is prudent to expect 3-4 business days for production and handling of the purchased device. Keep in mind that this process is designed to guarantee your satisfaction with the night vision device of your choice. It occasionally possible to expedite the process for urgent orders but addional fees or other restrictions may apply.
Technical Specifications
| | |
| --- | --- |
| IIT Generation | Gen 2+: "Quick Silver" |
| Magnification | 1x standard (3x, 5x optional) |
| Photocathode Type | Multi-Alkali |
| Lens System | F/1.3; 27 mm |
| Field of View | 40° |
| Focus Range | 0.25m to Infinity |
| Eye Relief | 25 mm |
| Diopter Adjustment | -6 to +2 dpt |
| Manual Gain Control | Yes |
| Bright Light Cut-off | Yes |
| Automatic Shut-off System | Yes |
| Infrared Illuminator | Yes (built-in with pivotal flood lens) |
| IR Indicator | Yes (in FOV) |
| Low Battery Indicator | Yes (in FOV) |
| Power Supply | One AA (1.5 V) or 123A (3 V) |
| Battery Life | Up to 40 hours at 20°C |
| Operating Temperature | -40°C to +50°C (-40°F to +122°F) |
| Storage Temperature | -50°C to +50°C (-58°F to +122°F) |
| Overall Dimensions | 115 x 48 x 73 mm (4.6 x 1,9 x 2.8 in) |
| Weight | 0.34 kg (0.75 lbs) |
| Warranty | 2 Years |
Questions on Armasight MNVD-40 2QS Multi-Purpose Night Vision Monocular
No questions asked yet
Ask Your Own Question