FLIR Scout II 640 Thermal Monocular Handheld Camera
Model no:
431-0019-21-00S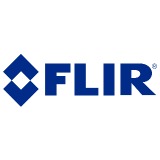 FLIR Scout II 640 Thermal Monocular Handheld Camera
This new model offers a larger 640x480 LCD display as well as a USB video output which. 
All 3 FLIR Scout II models ship with Molle Belt Bag which was previously an optional accessory. 
Palm-Sized Portability
Light Weight - Only 12 Ounces
Rugged, Weathertight, Ergonomic Design
Multiple Resolution Choices
Polarity: White Hot, Black Hot and InstAlertTM
4 button operation: Power, Polarity, Zoom and LCD Brightness
Embedded LED Tasklight
Rechargeable Li-Ion Internal Battery
FLIR Scout II 640 Thermal Monocular Handheld Camera description
FLIR SCOUT II 640 THERMAL MONOCULAR
FLIRs amazingly portable Scout II 620 model is an incredible way to bring thermal imaging technology with you anywhere, regardless of how lightweight your travel supplies need to be. The overwhelming benefit to this particular model is its lightweight and compact design. When you hold this model in your hand you will realize just how compact it truly is, easily fitting into the palm of your hand for great and effective use. Unlike other heavier models, the Scout II 640 is brilliant for simple work that requires that you pack light.
This FLIR model will allow you to scan large amounts of ground and work with it frequently without having to worry about arm fatigue. This is because the Scout II 620 is a lightweight model that is very straightforward and perfect for beginners or youngsters who need a model that isn't bogged down with extras. It has a start up of under 5 seconds and a digital E-Zoom of 2x
As is the case with all thermal imaging technology, this model does not need light to function properly. It uses the heat given off from everything to create images. Everything including animals, people, the ground, foliage, trees etc all give off heat markers that allow the thermal imaging technology to create a strong image for you.
As with all our Night Vision and Thermal Imaging devices, Night Vision Guys offers free shipping and free gifts with purchase of FLIR handheld thermal monocular units. The high quality of these devices guarantees that they will meet your expectations and serve you well. Buying these handheld thermal monocular units from NightVisionGuys.com guarantees quick handling as well as excellent service and price.
FLIR SCOUT II 640 THERMAL MONOCULAR - INCLUDED ACCESSORIES:
Instruction Manual
Neck Lanyard
Premium Molle Bag
USB charger cable
Thermal Imaging
Please note that most thermal devices are built per order. It may take 3-5 days or more for your order to ship. If timely shipping is important to you, please, contact us to verify availability prior to ordering.
Thermal devices can produce various types of images. Some are color others are monochrome. In either case change in shade or color indicates temperature differences.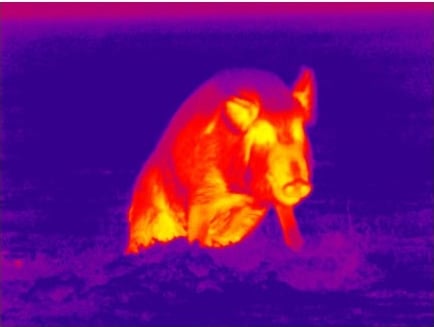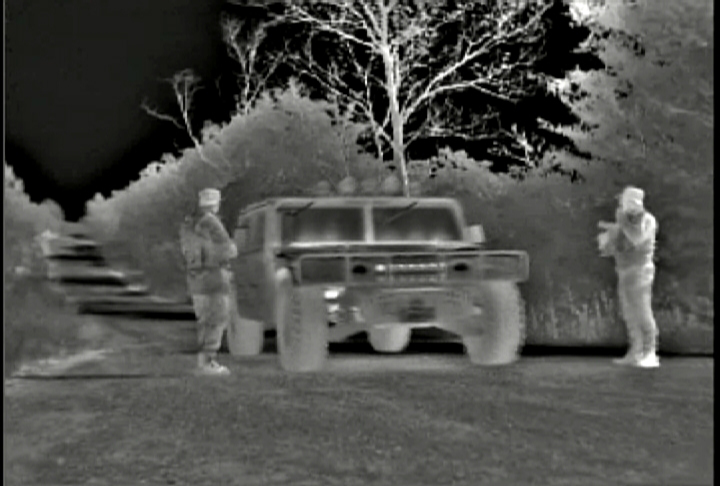 Here is how thermal imaging devices work...
A special lens focuses the infrared light emitted by all of the objects in view.
The focused light is scanned by a phased array of infrared-detector elements. The detector elements create a very detailed temperature pattern called a thermogram. It only takes about one-thirtieth of a second for the detector array to obtain the temperature information to make the thermogram. This information is obtained from several thousand points in the field of view of the detector array.
The thermogram created by the detector elements is translated into electric impulses.
The impulses are sent to a signal-processing unit, a circuit board with a dedicated chip that translates the information from the elements into data for the display.
The signal-processing unit sends the information to the display, where it appears as various colors depending on the intensity of the infrared emission. The combination of all the impulses from all of the elements creates the image.
There are a few key Manufacturers when it comes to thermal imaging.
ATN: produce such well knows devies as ThOR-HD thermal scope, BINOX-THD thermal binoculars, and OTS-HD thermal monocular.
FLIR/Armasight: the largest maker of consumer level thermal products is well knows for their full product line. Zeus thermal scopes, Q14 and Scout monoculars, Helios and Scout binoculars and many more.
Pulsar: a very popular brand for digital night vision and thermal imaging. Key products include Pulsar Trail and Apex thermal scopes and Pulsar Helion and Quantum thermal monoculars.
Seek: mobile device mounted thermal cameras are the main products of this brand.
Delivery Time and Manufacturing Process for FLIR Scout II 640 Thermal Monocular Handheld Camera:
Most of our manufacturers do not keep products like FLIR Scout II 640 Thermal Monocular Handheld Camera assembled on the shelf. Night Vision tubes are kept separate from the body of the unit. When the order is placed, the manufacturer starts the order processing and assembly process which includes the following:
Order processing

- we collect all the necessary information including address and phone numbers. We also make sure that our customer ordered the correct product for their needs and that the product can be exported by US law to the country of destination. In some cases a signed export compliance form is required.

QC

- in this step the manufacturer will inspect all individual parts which will be used to assemble the night vision device for any defects.

Production & Assembly

- during production, all the parts are put together. Night Vision tubes in inserted into the body of the unit and all the complex electronics for the device are connected. This process takes place in a special lab called the "clean room" as even a small speckle of dust can cause undesired optical effect.

QA

- one the night vision device is assembled, it goes through a rigorous testing process to make sure it meets all the expected specifications and all parts function as expected. For this most manufacturers have a special "dark room" designed to allow testing of the units without causing incidental damage to the night vision tube by exposure to bright light.

Packaging

- this is a key process as well. In most case your night vision device will be shipped to you directly from the manufacturer but sometimes needs to be sent to us first. In either case items need to be packaged securely to avoid any kind of damage during transportation.

Shipping

- as described above items will most of the time ship from the manufacturer. For most domestic orders (unless shipping to POB or AFB) a premium shipper like FedEx or UPS will be used.
Only by following the above steps can we along with our manufacturers bring you - our customer - night vision products of highest quality, However as you can understand the above process can take several days to complete. For example if your device fails QA, the entire process restarts. Also at QC stage a manufacturer may realize that the tube they have in stock has a defect and a replacement tube needs to be ordered. Due to the complexity of this process, it is prudent to expect 3-4 business days for production and handling of the purchased device. Keep in mind that this process is designed to guarantee your satisfaction with the night vision device of your choice. It occasionally possible to expedite the process for urgent orders but addional fees or other restrictions may apply.
Technical Specifications
| | |
| --- | --- |
| Detector Type | 640 x 480 |
| LCD Video Resolution | 640 x 480 |
| VOx Microbolometer | VOx Microbolometer |
| Focal Length | 19 mm Fixed Focus |
| Field of View (H . W) | 24 x 18 |
| Waveband | 7.5 - 13.5 m |
| Digital E-Zoom | 2x |
| Start-up | < 5 Seconds |
| Diopter Adjustment | +2 |
| USB Port | Software Updates/Upgrades/Charging |
| Tasklight | LED |
| Built-In Viewfinder Display | Color VGA LCD Display* |
| Polarity / Detection Palettes | White Hot; Black Hot; InstAlertTM |
| Image Optimization | FLIR Proprietary Digital Detail Enhancement |
| Video Output via USB | NTSC |
| Weight (with battery) | 12 oz (340 g) |
| Size (L x W x H) | 6.70 x 2.31 x 2.44 (172x 58.7x 62 mm) |
| Fixed Use | Standard Tripod Mount |
| Standard Warranty | 2 Years |
| Battery Type | Internal Battery/Li-Ion |
| Battery Recharging | USB Cable for Internal Battery; AC Adapter; Optional Charging Cradle |
| Battery Life (Operating) | 5+ Hours Typical |
| Rating | IP-67 (submersible) |
| Operating Temp. | -4F to 122F (-20C to +50C) |
| Handheld Package Includes: | Scout PS-Series Thermal Handheld Camera, USB Cable, |
| - | AC Adapter, Wrist Strap, Molle Belt Bag, Product CD |
| Optional Accessories | Charging Cradle |
| Detect Man-Sized Target | (1.8 m x 0.5 m) |
| (1.8 m x 0.5 m) | ~500 yds (~450 m) |
Questions on FLIR Scout II 640 Thermal Monocular Handheld Camera
No questions asked yet
Ask Your Own Question