FLIR Thermosight Pro 6-24x75 60Hz PTS736 Thermal Weapon Sight with Boson 320x256
Model no:
TAB176WN7LR0061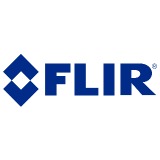 This product is no longer available
FLIR Thermosight Pro 6-24x75 60Hz PTS736 Thermal Weapon Sight with Boson 320x256 TAB176WN7LR0061
High resolution FLCOS display
FLIR Boson core
Digital Compass and Digital Inclinometer
Multiple palettes
Multiple selectable reticle patterns
Onboard video recording and picture capture (Internal Storage)
USB C connectivity
Battery Status Indicator
Rapid start-up
Rugged construction
Reliable quick-release locking weapon mount
Limited 3-year warranty
10-year warranty on FLIR detector
Made in the USA
FLIR Thermosight Pro 6-24x75 60Hz PTS736 Thermal Weapon Sight with Boson 320x256 description
FLIR Thermosight Pro 6-24x75 60Hz PTS736 Thermal Weapon Sight with Boson 320x256
The FLIR Thermosight Pro is solid state, uncooled, longwave infrared thermal weapon scope optimized for both day and night engagements. Not only the smallest and lightest in their class, Thermosight Pro thermal weapon sight is packed with features while still being simple to operate. Installing the Thermosight Pro on a weapon is easy, repeatable, and reliable, thanks to its unique and user-friendly MIL-STD-1913/ Weaver/ Picatinny rail-compatible quick-release locking mechanism. The solid state technology and software algorithms, combined with a complementary color reticle platform, ensures maximum reticle contrast, high-level target accuracy, and boresight retention that cannot be achieved with mechanical boresight adjusters and traditional ballistic drums. This level of accuracy is translated into the electronic zoom (e-zoom) function of the FLIR Thermosight Pro thermal imaging weapon sight, which can be progressively increased from 1x to 2x, 4x without changing the point-of-aim to point of-impact relationship of the targeting reticle.
From Night Vision Guys about FLIR Thermosight Pro 6-24x75 30Hz Thermal Weapon Sight with Boson
If you have been paying attention to the consumer thermal imaging market, you saw 2 key trends developing in the last 5-7 years.  Prices are getting better and better while the capabilities of the devices are getting better and better as well.  This is great news for the consumers.  
The new 2018 FLIR Boson processor based Thermosight scope is not exception to the above trends.  Combining the latest in FLIR technology with robust and market tested body design from Armasight, FLIR Thermosight Pro series delivers the sharpest image on the market at incredibly affordable prices.  
If you are shopping for a new thermal scope, be sure to put FLIR THermosight Pro scopes on your list. 
From FLIR about Thermosight Pro Thermal Scopes with boson core:
The FLIR ThermoSight® Pro Series sets a new standard in thermal image quality. With multiple features packed into a compact housing, the ThermoSight Pro Series delivers brilliant, clean thermal imagery in low contrast daylight scenes, as well as in total darkness. Equipped with shot activated video recording and FLIR's patent pending High Visibility Technology (HVT) reticle, the FLIR ThermoSight Pro Series is the perfect addition to any hunting or security weapon platform. It is powered by the new FLIR Boson core, featuring a 12 μm pixel pitch sensor, industry leading on-chip video processing. The uncompressed video signal is paired with a high definition display for better detection and classification in the field.
Thermal Imaging
Please note that most thermal devices are built per order. It may take 3-5 days or more for your order to ship. If timely shipping is important to you, please, contact us to verify availability prior to ordering.
Thermal devices can produce various types of images. Some are color others are monochrome. In either case change in shade or color indicates temperature differences.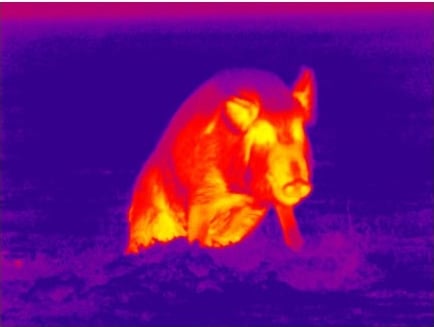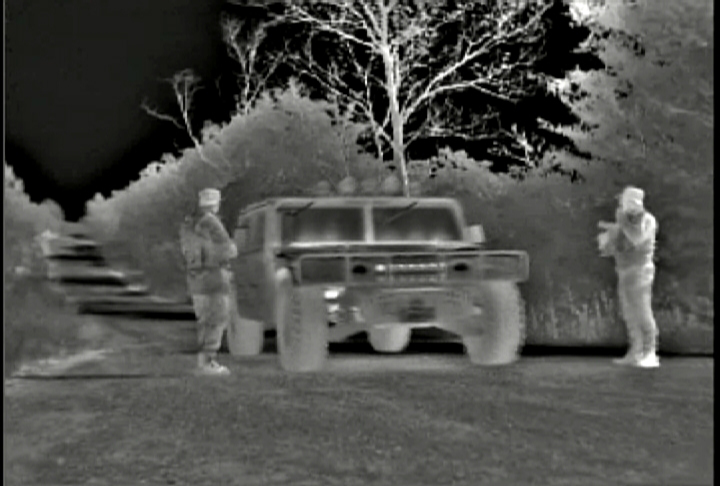 Here is how thermal imaging devices work...
A special lens focuses the infrared light emitted by all of the objects in view.
The focused light is scanned by a phased array of infrared-detector elements. The detector elements create a very detailed temperature pattern called a thermogram. It only takes about one-thirtieth of a second for the detector array to obtain the temperature information to make the thermogram. This information is obtained from several thousand points in the field of view of the detector array.
The thermogram created by the detector elements is translated into electric impulses.
The impulses are sent to a signal-processing unit, a circuit board with a dedicated chip that translates the information from the elements into data for the display.
The signal-processing unit sends the information to the display, where it appears as various colors depending on the intensity of the infrared emission. The combination of all the impulses from all of the elements creates the image.
There are a few key Manufacturers when it comes to thermal imaging.
ATN: produce such well knows devies as ThOR-HD thermal scope, BINOX-THD thermal binoculars, and OTS-HD thermal monocular.
FLIR/Armasight: the largest maker of consumer level thermal products is well knows for their full product line. Zeus thermal scopes, Q14 and Scout monoculars, Helios and Scout binoculars and many more.
Pulsar: a very popular brand for digital night vision and thermal imaging. Key products include Pulsar Trail and Apex thermal scopes and Pulsar Helion and Quantum thermal monoculars.
Seek: mobile device mounted thermal cameras are the main products of this brand.
Delivery Time and Manufacturing Process for FLIR Thermosight Pro 6-24x75 60Hz PTS736 Thermal Weapon Sight with Boson 320x256:
Most of our manufacturers do not keep products like FLIR Thermosight Pro 6-24x75 60Hz PTS736 Thermal Weapon Sight with Boson 320x256 assembled on the shelf. Night Vision tubes are kept separate from the body of the unit. When the order is placed, the manufacturer starts the order processing and assembly process which includes the following:
Order processing

- we collect all the necessary information including address and phone numbers. We also make sure that our customer ordered the correct product for their needs and that the product can be exported by US law to the country of destination. In some cases a signed export compliance form is required.

QC

- in this step the manufacturer will inspect all individual parts which will be used to assemble the night vision device for any defects.

Production & Assembly

- during production, all the parts are put together. Night Vision tubes in inserted into the body of the unit and all the complex electronics for the device are connected. This process takes place in a special lab called the "clean room" as even a small speckle of dust can cause undesired optical effect.

QA

- one the night vision device is assembled, it goes through a rigorous testing process to make sure it meets all the expected specifications and all parts function as expected. For this most manufacturers have a special "dark room" designed to allow testing of the units without causing incidental damage to the night vision tube by exposure to bright light.

Packaging

- this is a key process as well. In most case your night vision device will be shipped to you directly from the manufacturer but sometimes needs to be sent to us first. In either case items need to be packaged securely to avoid any kind of damage during transportation.

Shipping

- as described above items will most of the time ship from the manufacturer. For most domestic orders (unless shipping to POB or AFB) a premium shipper like FedEx or UPS will be used.
Only by following the above steps can we along with our manufacturers bring you - our customer - night vision products of highest quality, However as you can understand the above process can take several days to complete. For example if your device fails QA, the entire process restarts. Also at QC stage a manufacturer may realize that the tube they have in stock has a defect and a replacement tube needs to be ordered. Due to the complexity of this process, it is prudent to expect 3-4 business days for production and handling of the purchased device. Keep in mind that this process is designed to guarantee your satisfaction with the night vision device of your choice. It occasionally possible to expedite the process for urgent orders but addional fees or other restrictions may apply.
Technical Specifications
Sensor Specifications
Detector Type
320 x 256 VOx Microbolometer
Video Refresh Rate
60 Hz
Start Up
< 1.5 seconds
Image Processing
FLIR Proprietary Digital Detail Enhancement™
System Specifications
Lens System
75 mm; F/1.0
Optical Magnification
6×
Field of View (H x V)
3° × 2.5°
Digital Zoom
1x, 2x, 4x
Diopter Adjustment Range
-5 to +5 dpt
Focusing Range
10 m to infinity (not focusable)
Eye Relief
45 mm
Display
Quad-VGA (1280 x 960) FLCOS
Video Output
Digital Video
Temperature Imaging Modes (Image Palettes)

White Hot, Black Hot, Rainbow High Contrast, Ironbow, Sepia, Arctic, Outdoor Alert

Reticle Type
Dot 4 MOA, Line Dot, Cross Center Dot, Cross, Crosshair, and "No Reticle"
Reticle Color
Black, White, Red, Cyan
Boresight Adjustment Type
Digitally Controlled
User Interface
Operation Switch
On/ Off/ Standby Mode
Control Panel Buttons
Configures Operational Settings:
• Display Brightness Control
• Image Palette Control
• Digital Zoom Control
• Reticle Color Control
• Reticle Pattern Control
• Boresighting Adjustment
• On-Screen Menu Navigation
Diopter Adjustment Ring
Adjusts the Eyepiece Diopter
Interfacing
USB-C Connector
Digital Video Out, Laser Range Finder Connections
Power
Battery Type
Two CR123A 3V Lithium batteries
Battery Life (Operating)
Up to 4 hrs at 20C
Environmental
Operating Temperature Range
-20°C to +50°C (-4°F to +122°F)
Storage Temperature Range
-40°C to +60°C (-40°F to +140°F)
Physical
Weight
0.97 kg (2.14 lbs)
Size
283x89x93 mm (11.1x3.5x3.7 in)
Weapon Mount Type
Picatinny, MIL-STD 1913, and Weaver Rails
Color (housing)
Black
Country Of Origin
USA
Height of the Scope Axis above Rail

48mm (1.89in)

Recoil Rating
7.62x51mm NATO (.308)
Package Includes

Thermal Weapon Sight, CR123A Battery (2), Battery Cassette, Spare Battery Cassette, USB to USB Type C Cable (3'), Lens Cloth, Quick Start Guide, and Hard Carrying Case
Questions on FLIR Thermosight Pro 6-24x75 60Hz PTS736 Thermal Weapon Sight with Boson 320x256
---
Ask Your Own Question